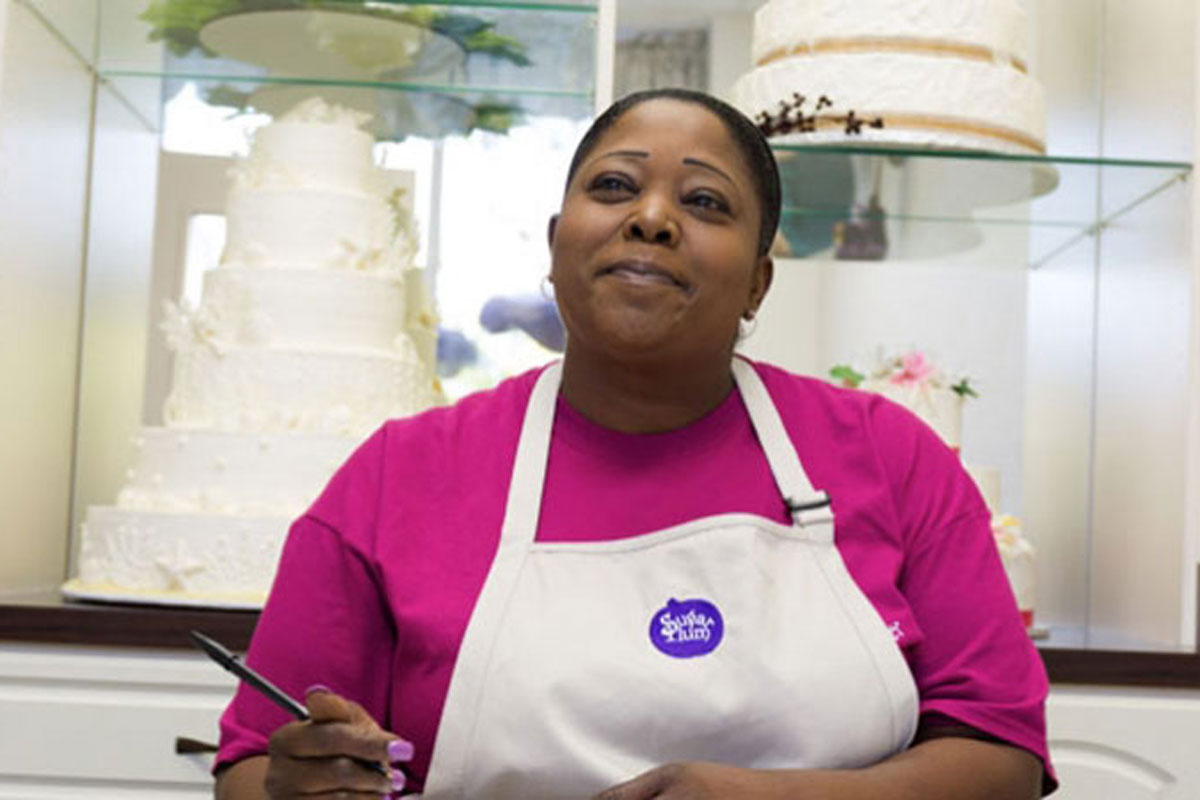 The word is out. For couples who seek an exquisite wedding cake and also want to support a great cause, Sugar Plum is the perfect match. Stepping up the bakery's wedding business by remodeling its cake consultation room in 2014, Sugar Plum now meets with about 25 couples per month.
Most Saturdays are booked solid, with consultations available from 10 a.m. to 1 p.m., on the hour. And every couple is greeted by the same smiling face— that of Monique Shackleford, who has decorated cakes at Sugar Plum for 20 years.
"Before this, I worked at Farm Fresh as a bakery supervisor. But I really love it here, since you can be much more creative," she says. At each consultation, the clients look through pictures in the bakery's portfolio, and sometimes they bring in photos they've seen online or in magazines. Then they sample the five main wedding cake flavors—vanilla, chocolate, almond, lemon, and red velvet. Other flavors are available upon request.
What's the most unusual cake she's ever made? "Halloween wedding cakes—we get requests for about one per year," says Shackleford. "They're covered with skulls, spiders, jack-olanterns… I think the last one had the bride and groom dressed like zombies!"
Shackleford says the April-May-June period used to be the busiest, but in the past couple of years, October has emerged the top month for weddings in the area.
"I was really surprised," she says. "We had double in October what we had in May. On October 10 of last year, we had 10 weddings in one day!" Such a feat requires lots of help. It takes two days on average to make a wedding cake, Shackleford reports. The cakes are baked and iced the day before, and then decorated the morning of the wedding— which takes about four hours on average, she says.
Asked if she's ever dropped a cake in 20 years, the answer is no, "but one time the delivery driver had to hit the brakes, and the top two tiers were damaged. Good thing we always deliver two hours in advance, and keep extra cake on hand. There's always something we can do to save the day.
"Most [wedding-related businesses] around here deliver to the same places, and they constantly recommend Sugar Plum— facilities on base, all the main hotels." No matter where the cake is delivered though, "people are oohing and aahing when they bring it in."